HAND COUNTY RUBBLE SITE
TIGH JOHNSON – MANAGER
Phone:  605-460-8722
2404 EAST 3RD AVENUE
MILLER, SOUTH DAKOTA 57362
---
2023/2024 WINTER HOURS ESTABLISHED
Printable Copy: 2-Landfill Winter Hours
SUMMER HOURS ESTABLISHED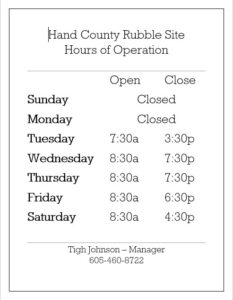 ---
WINTER HOURS ESTABLISHED
Establishing "winter" hours of operation for the Rubble Site
WHEREAS, from time to time it is necessary to alter operational hours of various offices, departments, functions or activities within the county for the effective management of staff and projects and,
WHEREAS, the Hand County Rubble Site is one such function that would benefit from such a modification of operational hours through the months beginning in October and ending in March and,
NOW THEREFORE BE IT RESOLVED, that during the period of October 1 through March 31 of each year, the rubble site shall follow the following hours of operation, to wit: Weeks 1 and 3, the hours of 7:30 A.M. through 5:30 P.M. on Mondays, Tuesdays, Wednesdays, and Thursdays. On Weeks 2 and 4, the hours of 7:30 A.M. through 5:30 P.M. on Wednesdays, Thursdays, Fridays and Saturdays. The rubble site will be closed, as it is throughout the year, on all Sundays, governmental holidays and other days as authorized by the board of commissioners.
Adopted this 5th day of October, 2021
Gilbert "Gib" Rodgers, Chairman
Attest: Doug DeBoer, County Auditor
---
Previous Summer Hours (2021)
Public Hours of Operation:
Monday – Friday:  8a to 4p and
Saturday:
Sunday:  Closed
Holidays:  Closed
---