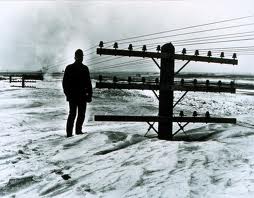 This photograph from many decades ago represents the reality of
living on the Northern Plains.
It doesn't take long to turn an otherwise peaceful day into a
disaster, whether the disaster is a natural event like a flash flood, hail
storm, ice storm or blizzard OR a man made event like a train derailment,
overturned gas truck, explosion or criminal act of violence.
Emergency Management seeks to PREPARE responders through PLANNING  so that an effective RESPONSE/RECOVERY can be made and MITIGATION plans can be drafted to minimize a re-occurrence in the future.  Emergency Management (formerly called civil defense) seeks to help  the public safety officials and members of the community to be prepared for just about anything. This is an ongoing project and requires a lot of work and especially team work to accomplish.
Welcome to the Hand County Emergency Management webpage!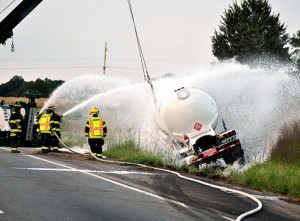 The contact and mailing information is as follows:
Hand County Emergency Management Alex Roeber – Emergency Management Director 415 West 1st Avenue Suite 108 Miller, South Dakota 57362-1371 605-204-0267 (EM Office and Mobile)
handcounty.em@live.com
    State of South Dakota L.E.P.C. webpage:
http://denr.sd.gov/des/gw/SARATitleIII/LEPC_Organization.aspx
Hand County Storage Tanks Database –
Click "Click Here to Search" and then enter the information that you are looking for.  If you are looking for a specific property enter the address, and if you are unsure of the address you can search by just the City or County.  Enter the information and then click "Execute Search".If you have an abandoned storage tank you would like removed and possibly for free you can call the South Dakota Department of Environment and Natural Resource (DENR) at 605-773-3296 for more information.
Hand County Spills Database
 – Open the County drop down menu and then choose "Hand".  Click the Submit button and it will open the spills for the county.  Click on the ID No. for each spill and it will open the details of the spill.
South Dakota Public Health Bulletin
2017 State and Local Agreement
The Emergency Management Performance Grant (EMPG) is a funding source provided by the United States Department of Homeland Security to states for the development and sustainment of emergency management programs. The state, in turn, makes a large portion of this funding available to county emergency management organizations through the State and Local Agreement(SLA).
Under the SLA, the county emergency management organization are required to achieve performance benchmarks in order to recieve federal funding. These benchmarks are reviewed annually by the state to coincide with state law and national priorities. Quarterly reports are submitted to the state by the county emergency manager documenting achieved benchmarks and eligible expenses and salaries for reimbursements up to 50%.
Here are the 2017 – Local Agreement Work Plan which detailed these benchmarks that need to be achieved and the 2017 – Terms & Conditions document which identifies all coincide state law and national priorities that need to be followed.
Training Opportunities
SKYWARN Storm Spotter class March 28th in Miller at 7:00pm in the Community Center.  
A SKYWARN weather spotter class will be put on by the Aberdeen National Weather Service(NWS) in Miller on March 28th starting at 7pm in the Community Center. The class is open to anyone in the community who would like to learn and provide severe weather reports to the NWS during severe weather outbreaks. This is a great opportunity for the community to learn about severe weather safety, identifying severe weather features, thunderstorm development and structure. For more information please visit: SKYWARN Storm Spotter Information
If you will be unable to make this class here is a link to other SKYWARN classes around our area. SKYWARN Storm Spotter Classes
Critical Incident Stress Management
The Hughes/Stanley County Emergency Management will be hosting a training pertaining to Critical Incident Stress Management (CISM) on February 1st, 2nd, and 3rd. This training is aimed for individuals interested in helping support emergency personnel after extreme stressful and traumatic experiences. The course prepares participants to provide crisis intervention and crisis management briefings, defusings, and debriefings. After completion of the course participants would be invited to be a part of a Central South Dakota CISM team composed of individuals throughout central South Dakota. This team will be called upon to to help emergency responders that have encountered a traumatic situation.
To register please contact Sandy Cronin at 605-773-2292 or email sandy.cronin@co.hughes.sd.us with your contact information.
For questions contact Rob Fines at 605-773-7454 or 605-280-1050 or email rob.fines@co.hughes.sd.us
For additional information here is the course description: CISM Training Course Description
2017 (REM) Register for PHMSA-funded RemoteTraining — Responding to Flammable Liquids Transported by Rail
This class will take place on March 4th at the Trinity Lutheran Church in Miller, SD starting at 9:00 am.
This 8-hour remote site training will be delivered to volunteer and rural area first responders who will be exposed to the potential harm caused by transportation of flammable liquid by rail incidents, so that they can plan to coordinate their responses in an effective and efficient manner. Participants will learn the importance of developing strategies while responding to these rail incidents, which allows them to remain flexible in adjusting their actions to any changing events that may occur during an incident. Key success factors presented in the course will be effective planning, communication, and coordination.
The course is designed to assist local emergency responders to recognize the significant aspects of flammable liquid rail transportation emergencies and the difficulties involved in containing large quantities of the flammable liquids that may be released by an incident as well as mitigating fire incidents that may occur.
Participants will recognize the potential scope of incidents involving flammable liquids transported by rail and the need to identify other agencies and organizations for help in planning and responding to these types of emergencies.
To register click here: Registration for Flammable Liquids Transported by Rail SERTC Class
Online Independent Study and NIMS training:
All first responders(EMS, Law Enforcement, Firefighters, ect.) and elected officials from both municipal and county level are required to take Incident Command Structure(ICS) 100, 200, and 700. The majority of ICS classes are found online for individuals to complete at their own pace. Before starting a class, first obtain a Student Identification(SID) number. Note: The SID number will be required before taking a final exam in each class. Once a class is completed the student will receive an email with a certificate. It is recommended to print or save the certificate for your records.
Click on the following link for a SID number: SID Number
Click on the following link for IS-100: Incident Command Structure-100
Click on the following link for IS-200: Incident Command Structure-200
Click on the following link for IS-700: National Incident Management System (NIMS)
Click on the following link for IS-800: National Response Framework (NRF)
SOUTH DAKOTA CHEMICAL INDUSTRY SAFETY WORKSHOPS 
The South Dakota Department of Environment and Natural Resources invites you to workshops led by representatives from the U.S. Occupational Safety and Health Administration, Department of Homeland Security, and Environmental Protection Agency. These workshops offer direct lines of communication with federal partners. Participants will have ample time to ask questions.
Click Here for more information on the workshops: SD Flyer Final
Weather Information
SOUTH DAKOTA GRASSLAND FIRE MAP (NWS product) is found here: South Dakota Grassland Fire Map
SEVERE WEATHER OUTLOOK (Storm Prediction Center product) is found here: SPC Convective Outlook
Latest Watches, Warnings, & Advisories (NWS product) is found here: NWS Forecast Office Aberdeen,SD
Storm Spotting
Storm spotting is a essential and potentially life saving activity that the National Weather Service strongly supports. Because of this the NWS sponsors the SKYWARN Storm Spotter community which is made up of local volunteers found all across the United States. The community creates an interactive web that can help report severe weather phenomena to the nearest NWS office. For those that are presently storm spotters or are looking into becoming one having a Weather Field Guide on hand can greatly help yourself while out in the field. The guide will teach you spotter safety, basic thunderstorm structure, and helpful information to accurately spot funnel clouds and tornadoes from a safe distance. To be better prepared, it is highly recommended to read the guides once or twice before an actual severe outbreak occurs.
Advanced Spotters' Field Guide
SKYWARN Storm Spotter class March 28th in Miller at 7:00pm in the Community Center. 
Weather Safety
Visit www.ready.gov for many emergency preparedness tips including preparedness for weather events.
2014 Winter Weather Preparedness Guide
Alert Text Messaging
NIXLE:  Nixle is a program that the Sheriff's Office and Emergency Management are using to get the word out regarding important public safety information including severe/winter weather information.  It is a free service to anyone who signs up for it, and you would be able to receive text messages, e-mails, or both.  Click on the blue NIXLE text above to check out the service and if you are interested sign up.  We presently have over 500 individuals receiving information from us.
L.E.P.C. (Local Emergency Planning Committee) has material on their webpage for review.  You are encouraged to visit their webpage for the latest information by clicking here.
The South Dakota Office of Emergency Management has sponsored a variety of classes to local first responders, to see the training schedule for this year click on the following link: http://dps.sd.gov/emergency_services/emergency_management/training_schedule.aspx  Contact 605-773-3231 if you have questions.
Township Boards membership is to be reported to the State Office of Emergency Management.  This list is compiled from the master list at the auditor's office.  Any changes after the annual meeting should be called in direct to the emergency manager by calling the sheriff's office.
Pre-Disaster Mitigation (PDM)
In October of 2000, the Disaster Mitigation Act (DMA2K) was signed to amend the 1988 Robert T. Stafford Disaster Relief and Emergency Assistance Act.  Section 322 of the Disaster Mitigation Act requires that local governments, as a condition of receiving federal disaster mitigation funds, have a pre-disaster mitigation (PDM) plan in place.
The purpose of this plan is to meet the hazard mitigation planning needs for Hand County and participating entities. Consistent with the Federal Emergency Management Agency's guidelines, this plan will review all possible activities related to disasters to reach efficient solutions, link hazard management policies to specific activities, educate and facilitate communication with the public, build public and political support for mitigation activities, and develop implementation and planning requirements for future hazard mitigation projects.
The plan is renewed every five years. The process for renewal starts two years prior before the plan is officially adopted. The reason for this is to gather input from the public, business, and local governing bodies found in the county. All the potential hazards to the county, whether natural or man-made are also identified and addressed in the plan. The plan contains hazard mitigation projects that counter act the identified hazards to allow the governing bodies to apply for FEMA funds. The county has to adopt the PDM plan to be qualified to apply for these available federal funds.
Click the link to view the current adopted plan: Hand County PDM
Homeland Security Grant
The 2016 Homeland Security Grant application process is now open until August 1, 2016. Agencies that are public or private, non-profit are eligible to apply. Applications must be submitted through the Electronic Database for Grant Application & Reporting (EDGAR) system. The following attachments will provide assistance while completing the application process.
Administrative Manual – Terms and Conditions – May 2016
EDGAR Guide for Award Acceptance Payment Request and Progress Reports
EDGAR Visual Instructions for 2016 Homeland Security Applications
Homeland Security Grant Application Instructions
There are numerous terms and conditions that must be met for the submitted application to qualify. Read the Administrative Manual – Terms and Conditions for more information. All qualified applications will then be voted on at a Homeland Security meeting in October.
For questions about the application process or if your idea is qualifiable contact the Office of Homeland Security at 605-773-3450