VOTER / ELECTION FORMS & INFORMATION
IMPORTANT DATES
(Taken from the Secretary of State's Election Calendar)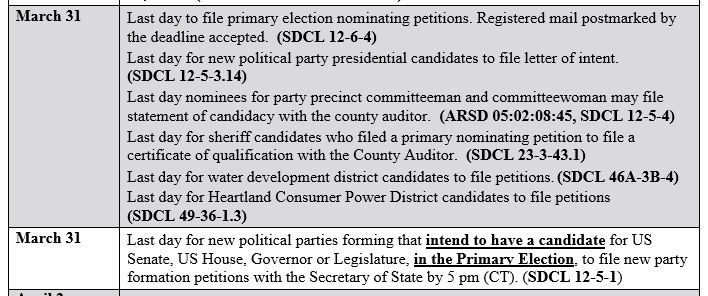 UPCOMING DATES TO REMEMBER
Date of South Dakota's 2020 Primary Election – June 2, 2020
Absentee voting begins – April 17, 2020
Voter Registration Deadline – May 18, 2020
Date of South Dakota's 2020 General Election – November 3, 2020
Absentee voting begins – September 18, 2020
Voter Registration Deadline – October 19, 2020
Check your voter registration status online.
Voter Registration Form (Fillable PDF)
Absentee Voting Informational Page (Redirects to the Secretary of State's Website)
PDF Form Fill Form to use when requesting a list of voters from the Auditor or Secretary of State.
Checklist to be used when validating the request for voter information.
Secretary of State 2020 Election Calendar (If you are running for office, you should download or print this file)
2019-2020 South Dakota Voter Registration File – Data Request Form
Municipal Election Handbook can be found by clicking here.
ES&S DS200 Ballot Tabulator (Will replace our current M100 units).
The DS200 units are $5,560 each and the county has two for a total investment of $11,120 on 2019 contract pricing.
ES&S "Express Vote" touch-screen voting machine. (Will replace our current Automark machines).
The Express Vote machines cost $3,420 each and the county has 11 to replace for a total investment of $37,620 investment.
AT THE POLLS
The Americans with Disabilities Act (ADA) provides specifications for accessibility to polling places.  This download provides guidance on those specifications.

A direct link to the ADA document is available by clicking HERE.
South Dakota Secretary of State's Information on accessibility is found on their website at this LINK.