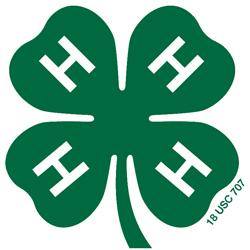 Hand County 4-H, SDSU Extension
City Slickers  •  Hand E Hands   •  Rose Hill Baby Beef  •  West Hand Baby Beef
---
Ann Price, 4-H Youth Advisor
Office Hours:
8 a.m. – 5 p.m. Mondays – Fridays
(closed 12 p.m. – 1 p.m.)
4‑H is delivered by Cooperative Extension—a community of more than 100 public universities across the nation that provides experiences where young people learn by doing. Kids complete hands-on projects in areas like health, science, agriculture and citizenship, in a positive environment where they receive guidance from adult mentors and are encouraged to take on proactive leadership roles. Kids experience 4‑H in every county and parish in the United States—through in-school and after-school programs, school and community clubs and 4‑H camps.
Youth between the ages of 8 and 19 are eligible for enrollment in 4-H. Youth must be 8 years of age on or before January 1 of the current 4-H year to enroll. Youth turning 19 on or before January of the current 4-H year are no longer eligible for 4-H membership.
4-H Online Enrollment Process:
4-H Forms
4-H Record Book
Hand County 4-H forms
State Fair forms
4-H Newsletters (not all will appear here, check email for more)
---
2020 Hand County 4-H Calendar of Events
Updated July 16, 2020
July
16–4-H office closing at noon
17–4-H office closed
23-26–SD Summer Spotlight, Huron
23–virtual Special Foods contest via Zoom, 1-3 pm  Sign up here!
28–virtual Special Foods contest via Zoom, 10 am – 12 pm  Sign up here!
30–virtual Public Presentations via Zoom, times TBD  Sign up here!
31–virtual Fashion Revue via Zoom, 10:30 am

 

Sign up here! 
6-7—Achievement Days–unfortunately, these events will be limited to participants and immediate family only
9—Best of the West champion showcase—Wessington Springs
11—State Fair entry deadline
14-16—State Finals Rodeo, Ft. Pierre
29-30–State Dog Show, Huron
29-30–State Horse Show–note the date change
September
3-7              South Dakota State Fair– Huron SD
18-19          SD State 4-H Livestock Judging Contest– Brookings
October
4-10              National 4-H Week
8-11              Western Jr. Livestock Show